Almost all of Rosetta Tharpe's recordings from 1938 to 1953, and many from later years, are currently available on compact disc.
Sister Rosetta Tharpe Anthologies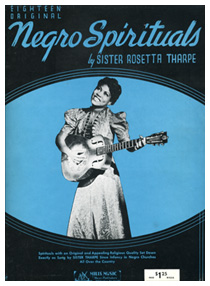 The most thorough collection to date is The Complete Sister Rosetta Tharpe/Intégrale
Sister Rosetta Tharpe , issued in four volumes on the French label Frémeaux & Associates (FA 1301-1304). Each volume comes with notes in French and English.
The excellent London-based label Document Records has released Sister Rosetta Tharpe: Complete Recorded Works in Chronological Order in three volumes covering the period between 1938 and 1947 (DOCD-5334, -5335, and -5607). The last of these features some of Rosetta's wonderful work with Madame Marie Knight.
While Document and Frémeaux have been at the forefront of the European re-issuing of Sister Rosetta Tharpe's catalog, the English label Proper Records publishes Sister Rosetta Tharpe: The Original Soul Sister (Properbox 51) an attractive and reasonably priced four-CD set.
Individual Sister Rosetta Tharpe CDs
Listeners who want an introduction to Rosetta Tharpe's music in a single CD might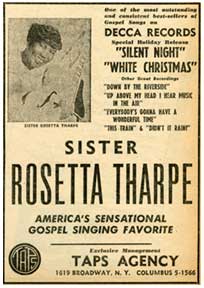 consider The Gospel of the Blues (MCA B0000533-02), which mixes gospel and bluesy pieces like "(I Want a) Tall Skinny Papa"; or Up Above My Head , a British import from the Indigo label (IGO CD 2108), which focuses more on her gospel material. Both offer selections from Rosetta's earliest Decca recordings, as well as samples of her duets with Marie Knight.
There are several CD reissues of Rosetta Tharpe's LPs-that is, music from the period after the mid-1950s. These include: Precious Memories (Savoy SCD 5008), Spirituals in Rhythm (Collector's Choice CCM-1302) and Gospel Train (Verve 4228411342), a charming reissue of the album Tharpe recorded in 1956, complete with a reproduction of the original LP cover and album notes.
Live recordings of Rosetta Tharpe date from the late 1950s and 1960s and vary in sound quality. On Chris Barber's Jazz Band with Special Guest Sister Rosetta Tharpe, 1957 , from the British imprint Lake (LACD 130), you can hear a sample of her earliest work in England , including a wonderful "Peace in the Valley." There are also Live in 1960 (Southland SCD-1007) and, best of all, Live at the Hot Club de France (Milan ML2 35624).
Related CDs
Memphis deejay Dewey Phillips introduces and plays "Strange Things Happening Every Day" on Red, Hot and Blue: Live Radio Broadcasts from 1952-1964 (Memphis Archies MA 7016).
Katie Bell Nubin's one and only LP, Soul, Soul Searching , is out of print, but "Where's Adam?" is on the two-CD set Dizzy's Diamonds: The Best of the Verve Years (Verve 314513875-2).
Aficionados of old-time radio might want to check out The Jubilee Shows No. 55 and 61 (Storyville 501 1010), on which Rosetta does "That's All" for the troops.
The Very Best of the Harmonizing Four ( Collectibles COL 6106) provides a taste of this superb quartet's music.
Rev. Kelsey and His Congregation, 1947-1951 (

Document

DOCD-5478) includes portions of Rosetta's 1951 wedding ceremony. More crucially, it offers a nice introduction to the sounds of an important Church of God in Christ church in the 1940s, as well as the congregation's hit records, including "Little Boy." Document also offers Arizona Dranes: Complete Recorded Works in Chronological Order, 1926-1929 (DOCD-5186), for those who want a taste of a sanctified pianist-singer who provided an early model for Rosetta Tharpe.
Marie Knight's solo gospel recordings from Decca are out of print, but her rhythm and blues work from the 1960s is paired with that of Judy Clay on Bluesoul Belles, Vol. 4 , from the British label Westside (WESA 897); Today (The Blues Alliance TBA -13006) is a gospel CD from 1975. In 2007, Marie Knight recorded Let Us Get Together on MC Records (MC-0058). Marie Knight continues to tour and record for the label

MC Records.
Gospel Music Compilations
The Great Gospel Women and The Great Gospel Women, Vol. 2 (Shanachie 6004 and 6017) are compilations which include selections by Rosetta, featuring her in the context of the best of her contemporaries. Both are produced by gospel scholar Anthony Heilbut.
Covers of Music Popularized by Rosetta Tharpe
Rhiannon Giddens does a version of "

Up Above My Head

" on Tomorrow is My Turn (Nonesuch) Hear her commentary about the song

here

.
Brittany Howard, lead singer and guitarist for the band

Alabama Shakes

, often cites Rosetta Tharpe as an inspiration.
A little-known gem is Fern Jones, The Glory Road (

Numero

NUM 005), which includes several of Rosetta's tunes performed in the inimitable style of this unsung white Pentecostal singer-guitarist.
Johnny Cash's A Believer Sings the Truth (Cachet CL-9001) is an out-of-print LP that can sometimes be found on Internet auction sites.

Elvis Presley 1968 "Comeback" special (on DVD from BMG Video) contains a gospel medley featuring "Up Above My Head."
Tribute CD
MC Records' tribute CD, Shout, Sister, Shout! (MC-0050) features veteran performers like Bonnie Raitt, Maria Muldaur and Odetta.